Tag Archives: vegan mexican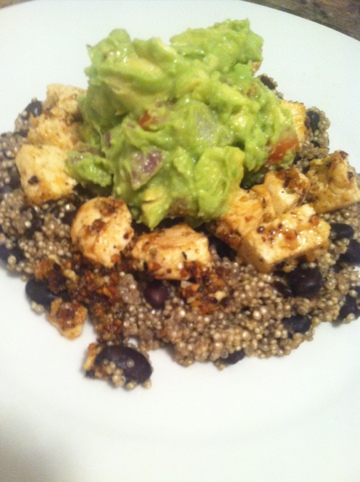 I literally just finished chowing down on this vegan mexican mountain of deliciousness! I'm so stuffed but so pumped to tell you about how you can easily make this little vegan dinner (or lunch) in your own home! I also want to say that EVERYTHING I used in this recipe was okay to eat during my detox, so you could even say this was a vegan DETOX dinner! I know, I'm blowing your mind right now, right? Anyway, I've got a wicked weakness for all things Mexican, with guacamole being at the very top of the list so I just knew I had to come up with some way of eating it without those greasy fried chips it always comes with! The quinoa, black beans and tofu provide you with a triple protein punch making this meal satisfying and good for you! You are going to LOVE this dinner whether your vegan, vegetarian or just had a cheeseburger for lunch, trust me.
VEGAN MEXICAN DELIGHT (DINNER)
1/4 cup of quinoa
1/2 cup water
1/2 cup black beans
tofu (I used a slice about the size of a chalkboard eraser and 1/4 inch thick)
adobo seasoning
2tbsp of Olive Oil
2 tbsp of chopped garlic
for the guacamole:
1 avocado
1/2 lime (for juice)
1 tbsp of chopped tomatoes
1 1/2 tbsp of chopped onions
two pinches of salt
It's pretty self explanatory, put the water and quinoa in a pot and boil it till all the water evaporates and your just mixing quinoa. Then, add your black beans and fold them into the quinoa till they're heated up. In a separate frying pan add your olive oil and garlic on low heat. Add chopped tofu to the pan and sprinkle with the adobo seasoning. I like to cook my tofu till it's pretty golden brown but you can do it however you like. Now for the guacamole, in a separate bowl cut the avocado in half and then cut it down and across a few times, take your knife around the skin till all the avocado falls out into your bowl. Add your chopped tomatoes and onions, sprinkle with salt and squeeze your lime. Now just finish it up by folding all the ingredients together! I then take the quinoa and beans and place it down on the plate first, topping it with my sautéed tofu and finishing it off with a nice scoop of the guacamole! It is a vegan mexican masterpiece! (The portions here are for one person, so if your cooking for two just double everything and so on)

Thanks for reading! I love that Go Sweet and Skinny is your go-to website for healthy living tips, vegan and vegetarian recipes (from everything from appetizers to cupcakes!) and diet advice. I"m committed to helping you get skinny and live the sweet life! Please follow @gosweetnskinny on twitter, like us on Facebook and subscribe to our YouTube channel (youtube.com/user/gosweetandskinny) to keep yourself sweet and skinny 24/7. And as always, feel free to email me at gosweetandskinny@gmail.com and let me know what low fat, healthy recipes you want to see on the site, what diet books your trying and ask any diet questions your little heart desires! I'm here to help you!:)
Girls' night is simply not complete with out a pitcher of sangria and huge bowl of freshly made guacamole with chips. Granted, most girls' night are self professed "calorie free zones" when it comes to my ladies but I couldn't help but try to find an even healthier lower in fat alternative to our favorite green godliness! Avocados have a ton of good for you fats and the added edamame in the recipe will make you feel fuller faster and give you an extra punch of protein.
Good for You
Guacamole
1 12oz. pkg frozen shelled edamame
1 lime, zested and juiced
1 avocado, halved, pitted and cubed
1/2 cup cilantro
1/2 cup chopped red onion
1/4 cup chopped tomatoes
1/2 cup chopped scallions
2 tbs fat-free or tofu sour cream
2 cloves garlic, peeled
1/2 tsp. hot sauce
1 8oz. bag of baked tortilla chips
Cook edamame and let cool for 10 mins. In a blender, puree edamame, lime juice, lime zest and next ingredients till smooth, adding 1 tbs water at a time if too thick. Season with salt and pepper and serve with your favorite baked tortilla chips.